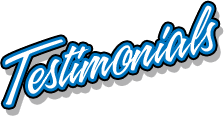 Daytona Sportswear has had the oppurtunity to work with many wonderful customers over the years. But for those who are new to us and how we do things, we thought it would be nice to let you see what some of our past and current customers think. It's always nice to get feedback from other customers on what you can expect from a company prior to an investment or purchase.
If you would like to have you or your company listed amungst the Testimonials here, you need only to email us your comments. We love to hear back from our customers!
---
"Just want to say "Thank You" to all for the great work on our team t-shirts for the Volusia County Alzheimer's Walk. Once we knew the number of shirts needed, it didn't leave much time, but you got them done. It was so important to us to have them for the walk and you delivered! We also appreciate the suggestions/options you offered regarding the artwork and coloring. The shirts came out great. We give you 5 out of 5 stars. Thank you!"
~ Jill Andreasen ~ Volusia County Alzheimer's Walk

---
"Hello and Good morning, I love the efficiency, dedication and outstanding customer service Daytona Sportswear has given me over the years."
~ Jose Rivera ~ Mel's Old City Diner, St. Augustine, FL

---
"Three years ago we started a new company and Daytona Sportswear has worked along side us and helped us grow. In our business, we're only as good as our suppliers and Daytona Sportswear is at the top of the list. The Sales, Customer Service, Graphics and Production organizations work as a team; they continually go the extra steps to ensure we are satisfied with the quality and price of their products and services. Thanks for all you do!"
~ Claude Lamour ~ Half Ass Retired Dude
(www.hard-wears.com)
---
"I have never written a review about a business, restaurant, resort ect. however the service rendered from Daytona Sportswear has compelled me to do so. Not only is it a laid back easy to deal with facility, the staff go above and beyond to ensure satisfaction. Thanks for being such an awesome place to do business!"
~ Jason Bland
(JB Boycott Hate)
---
"Just wanted to tell you guys the shirts look great! The employees love the new design and the screen printing seems to be a much better quality than what we received from our previous supplier. Also the price was great. Thanks again and can't wait to order more!"
~ Jacob Skeens, Owner
(Hot Diggity Dog, Bunnell, FL)
---
"Thanks you guys and gals for helping me build such a great Tournament Pirate team. My ship won't sail without her sails or her crew. I've always been confident on my products because of your great efforts. Thank You Very Much!"
~ Tournment Pirate "Give Me the Loot!", Owner
(Tournament Pirate)
---
"We own Bentley's Saloon, a destination spot in the New England area. Even though we are in Maine, for several years we have worked with Jeff, Jamie and the team at Daytona Sportswear. Their graphic designers, products and service are exceptional. Our 10 year anniversary is 2014, and we're already working on ideas!!"
~ Lisa Zatalava, General Manager
(Bentley's Saloon & Campground)
---
"Thank you so much for all of your help with our first time ordering, your professional assistance, as well as the extremely beautiful outcome of the items ordered. Your service was wonderful all around. I look forward to working with you all again in the very near future."
~ Cathy Butts
(New Heart Christian Center)
---
"Daytona Sportswear has been printing our shirts for over 10 years and we have been so pleased with the quality, designs and artwork. We all look forward to the new design each year. Jeff and his team are very helpful, honest and efficient. All of our customers, employees, friends and family enjoy wearing them and we love the advertising!"
~ Jane Higgs
(Higgs Auto Paint & Body Supplies)
---
"When I needed shirts and hats embroidered for my new business, first I called a firm whose ad I kept hearing on radio. I told them that I only needed a half a dozen embroidered shirts, they hung up on me. Then I contacted Daytona Sportswear, and it was a whole different experience. The communication was great, they did a beautiful job and overall treated me like I was a million dollar customer. Thanks again!"
~ Gyorgy Laborc
(The Hawk Eye Home Inspection)
---
"We would like to Thank Daytona Sportswear in Daytona Beach, FL. for always doing a great job on our team shirts. If you are looking for any custom made shirts, jackets, hats, cups & etc... for your business or team this is the place to go for quality work and they also do awesome art graphic designs & logos very reasonable prices."
~ Denise Strehle
(D&R Chassis and Racing)
---
"I just wanted to send you and your team a quick thank you. I very pleased with the shirts that I just recently had printed and look forward to future business with you guys. Thanks!"
~ Tom West
(All About Trees Trimming & Removal)
---